Just following up from the
brief mention under "Signal locking" on the Historical forum
, and the discussion on level crossings at tablet stations that switch out...
Here is the section on Dundrum, from the Belfast & County Down Railway's General Appendix of May 1943.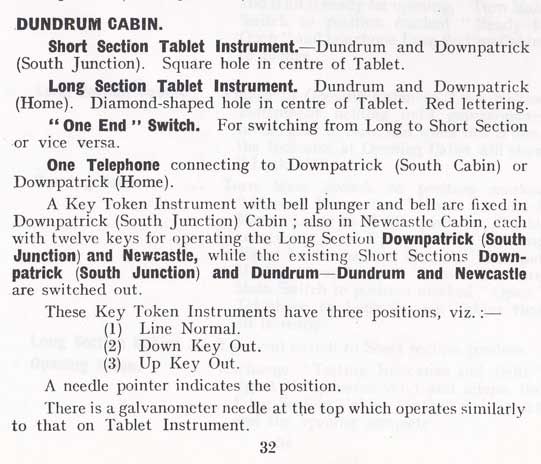 Ballygowan's instructions are very similar, except that Dundrum had a fun additional complication in that the next tablet station up the line, at Downpatrick South Junction, could also switch out - but not at the same time as Dundrum.
South Junction must have been quite a fun place to work, with No. 6 tablet to Downpatrick Home Cabin and Dundrum, EKT to Newcastle when Dundrum was switched out, Wise's Patent staff to Ardglass, and block only (no tablet or staff) to Downpatrick North Junction. Oh, and a frequently used run-round loop one end of which was within the section to Downpatrick Home Cabin and controlled by a ground frame unlocked by the tablet.
The GA also has contains two very different versions of the instructions for the Belfast-Bangor automatic signalling: before and after the Ballymacarrett Junction accident of 1945. Any interest in seeing those?